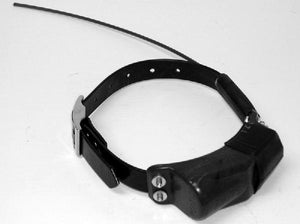 RATS 3 Tracking Collar
RATS 3 Tracking Collar
The RATS 6C Tracking Collar is our changeable battery collar. Used on mostly smaller dogs, this collar is mounted on a 3/4 " wide and 21" long transparent collar. The collar weighs roughly 6 ounces. This collar also has a user changeable antenna system. Uses a 1/2 AA Lithium Battery and had 650 to 700 hours of run time. Collar color may vary. Please specify your collar frequency on order or call us at 731-632-0489 for assistance.

Features
* Mounted on 21" Transparent Collar.
* Weighs around 6 ounces.
* Range : 2-9 miles - Depending on hunting conditions.
* One year warranty.